COMPETITOR FEES



$100 for a four-person team.
($25 per-person)



EVENTS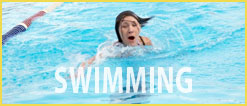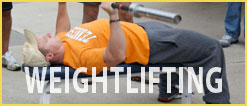 GLADATOR GAMES 2013
SATURDAY, AUGUST 24TH
WEST HILLS PARK / YMCA KNOXVILLE, TENNESSEE

WHAT IS THE GLADIATOR GAMES?
The Operation Backyard Gladiator Games puts teams (2, 3 or 4 members; male, female; 13 years old and up) through the paces in eight different sporting challenges that are for athletes of every skill level. The event, now in its seventh year, has grown from rather meager beginnings with 14 teams participating in its first year to recent events which recruited as much as 31 teams and raised over $10,000 to support the programs of Knoxville Leadership Foundation. Our participants have gone to battle in contests including a golf chip shot, baseball accuracy throw, sprint, shot put, swimming, kayak and obstacle course, just to name a few. But every year, only one team walks away with the bragging rights and the coveted sword and trophy!

Teams are recommended to set a minimum goal of raising $100 per person on the team.

You don't have to send out letters in the mail or collect checks. To start fundraising click Register or Join a Team, and follow the steps to making or joining your team page.
WHAT IS OPERATION BACK YARD (OBY)
OBY provides minor home repair for families that can't afford them. We've served 760 homes with over 8,000 volunteers; our current backlog of is 337 homes with more needs coming in daily.

In Psalm 68: 9-10, the Psalmist states, "You gave abundant showers, O God; you refreshed your weary inheritance. Your people settled in it, and from your bounty, God, you provided for the poor." For the seemingly insurmountable list of requests for minor home repairs at Operation Backyard (OBY), God provided an abundance of 581 volunteers to provide countless hours of volunteer work for 36 families this past summer. God's showers rained down on Knoxville and refreshed our community. Don and Debra were one such family served by OBY this past summer. Green Mountain Coffee Roasters (GMCR) provided a grant to OBY along with a volunteer team that served Don and Debra. Don had been diagnosed with a life-threatening form of cancer and Debra despite her crippling arthritis continued to provide care for Don so he could remain comfortably in their home of 24 years. The repair plan for Don and Debra's home included installing a new roof and an access ramp for Don's wheelchair. With the new roof in place, the week took an unexpected turn of events. Sometime during the night, Don passed away. The GMCR team had been surrounding the couple in love during the week; time spent talking and caring for the two of them was well invested. Debra after losing Don that week was not alone; she was surrounded by a community of friends, for which she was extremely grateful. She repeatedly stated to her new friends, "You all have no idea how much this means to me". The provision of community and a new roof was incredibly timely. The work of OBY is seen in the physical repairs of homes, yet it's the heart and community transformation that occurs which is truly inspirational. The GMCR team explained that their involvement with the project "made them feel blessed and grateful". Don will be greatly missed and remembered by his loving wife and their new friends. Debra now has a new roof that reminds her of a community that surrounds and cares for her.
FOLLOW US
TO COMPLETE THE
REGISTRATION PROCESS,
YOU MUST HAVE THE
NAMES AND E-MAIL
ADDRESSES OF EACH
TEAMMATE BEFORE
REGISTERING

FORMS
Release Form